Posted by Give Fun on 6th Jul 2018
The rose gold obsession is here to stay and you can now fuel your rose gold obsession with rose gold balloons and party decorations including Cake Topper, Tassels Garland and so on.
If you are hosting a party and you are unsure what theme to go with, try a gorgeous rose gold theme. What's great about rose gold parties is they work great for birthdays, bachelorette parties, baby showers and even weddings.
Here are a few party ideas for your rose gold party set-up: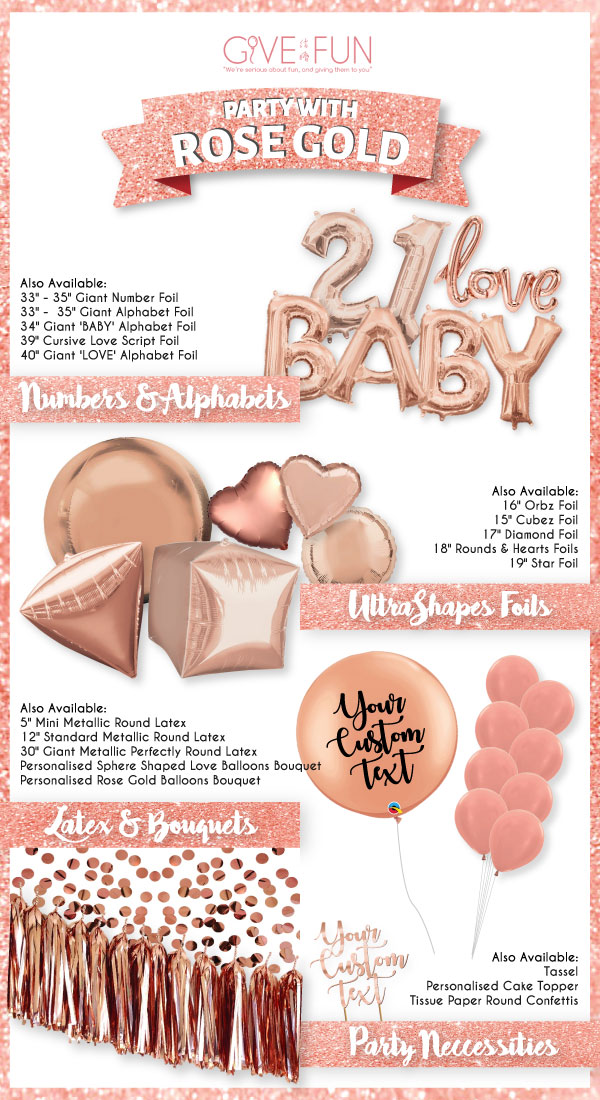 Number/Alphabets Balloons
Use the 33"-35" Giant Rose Gold Number/Letter Foil Balloons to create a bold statement at your party venue.
Spell out name, age, or any sentence you like and it will be the perfect centerpiece.
Ultra Shapes Foil Balloons
Use the rose gold ultra shapes foil balloons to create an elegant and classy scene for your party.
Apart from the classic shape designs like heart shaped and round shaped, it is also available in fun and trendy shapes including Diamond shape and Cube shape. These balloons are perfect on it's own or you may use them to create a lovely balloons bouquet.
Latex Balloons & Bouquets
The rose gold latex balloons come with a few sizes such as 5", 12" and 30" which are great for balloon collars, balloon garland, balloon cluster and the possibilities are endless. The personalised rose gold balloons bouquets will make a perfect gift for your loved ones.
Party Neccessities
Use these beautiful rose gold tassel and rose gold tissue paper round confettis to decorate your party. Make sure your party cake fits the rose gold theme with the Personalised Rose Gold Cake Topper.
** Click HERE to shop all Rose Gold Balloons **
** Click HERE to shop for Rose Gold Cake Topper **
** Click HERE to shop for Rose Gold Confettis **