Posted by Give Fun on 18th Mar 2015
Nuffnang (the World's Leading Blog Advertising Community) has just turned 8 and it was their 8th Birthday Bash last Saturday (14 March 2015)! Congratulations again on the milestone, here's to another year filled with wonder and success! As a loyal follower to many Nuffnangers for years, Give Fun is very honored to be the Official Event Decor Partner for their birthday bash this year together with our partner, Assemble Happinest.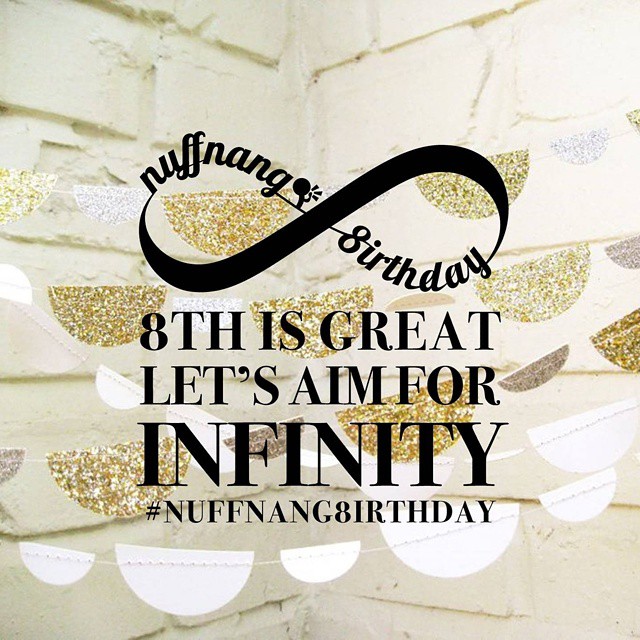 Source: Instagram, Photo Credits: @nuffnang_sg
Date: 14 March 2015
Time: 12.30pm - 3.45pm
Venue: Da Paolo Bistro Bar at Rochester (Website)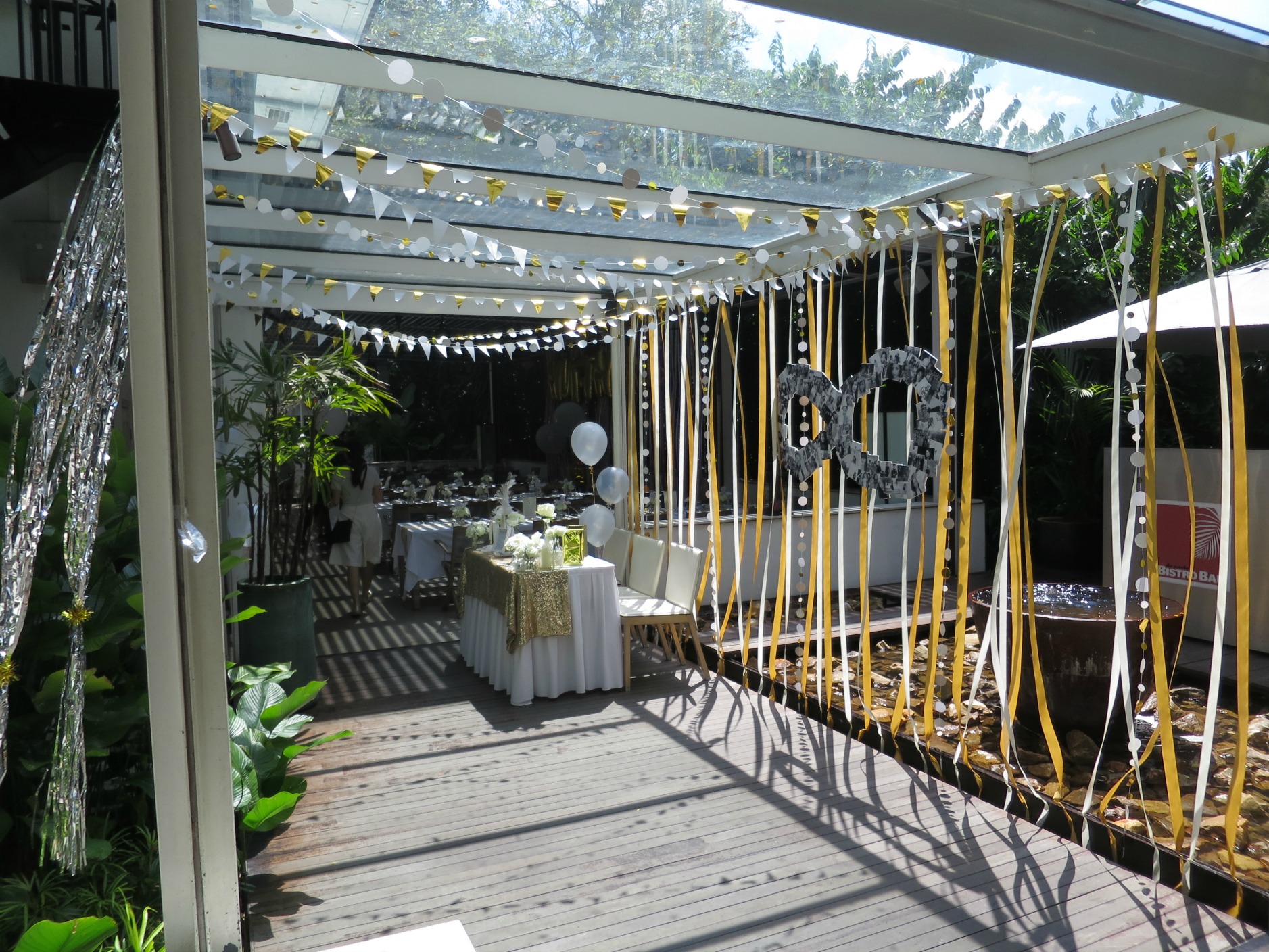 Every year, Nuffnang will throw a themed party to celebrate their birthday. Their first birthday bash was known to be: The Pajama Party! Check out their blog and their official Dayre account if you wish to know more! This time round, the theme of their birthday bash is 'Timeless and Infinity', with White, Gold and Silver as their theme colors.
After a few discussions and meetings with Assemble Happinest, the decorations that we have decided to use to style for the party are our White and Transparent Giant Latex Balloons, White and Trasnsparent Latex Balloons, Giant Alphabet Balloons, Mini Alphabet Balloons in Gold and Tassel Garlands. Now we will let the pictures do the talking!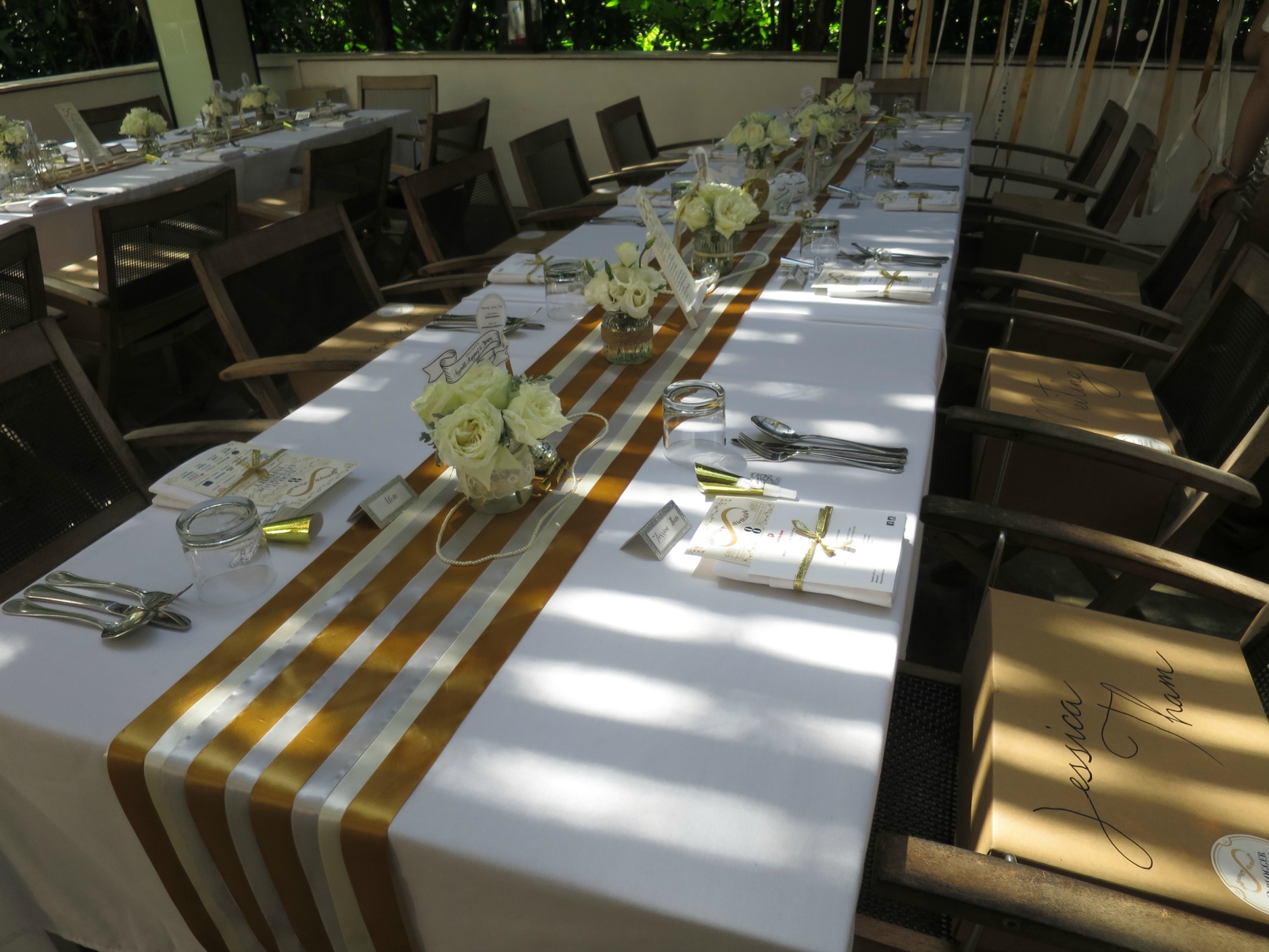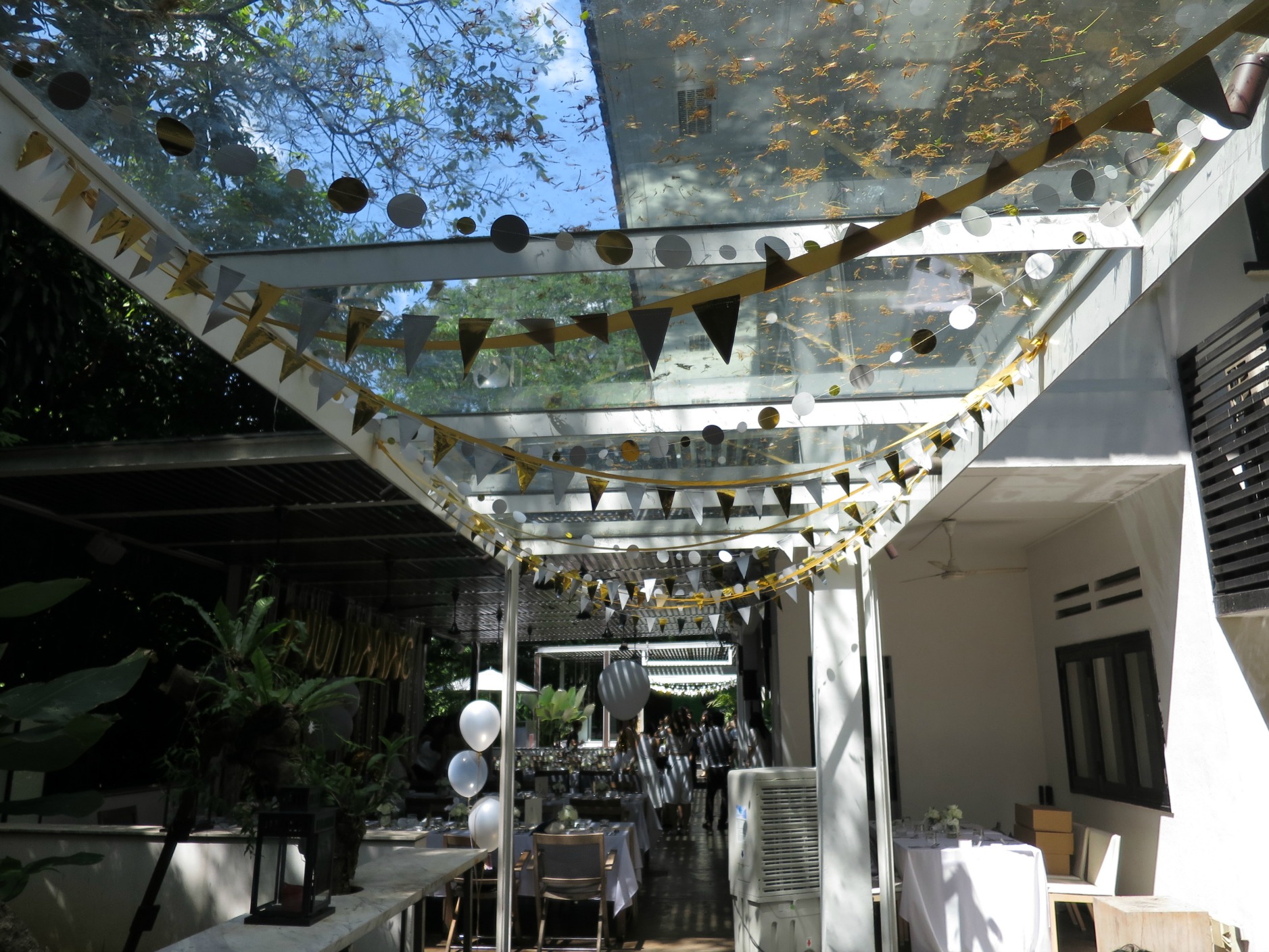 A big round of applause for Assemble Happinest who did an amazing job on styling the party with flower arrangements and some decoration supplies from us.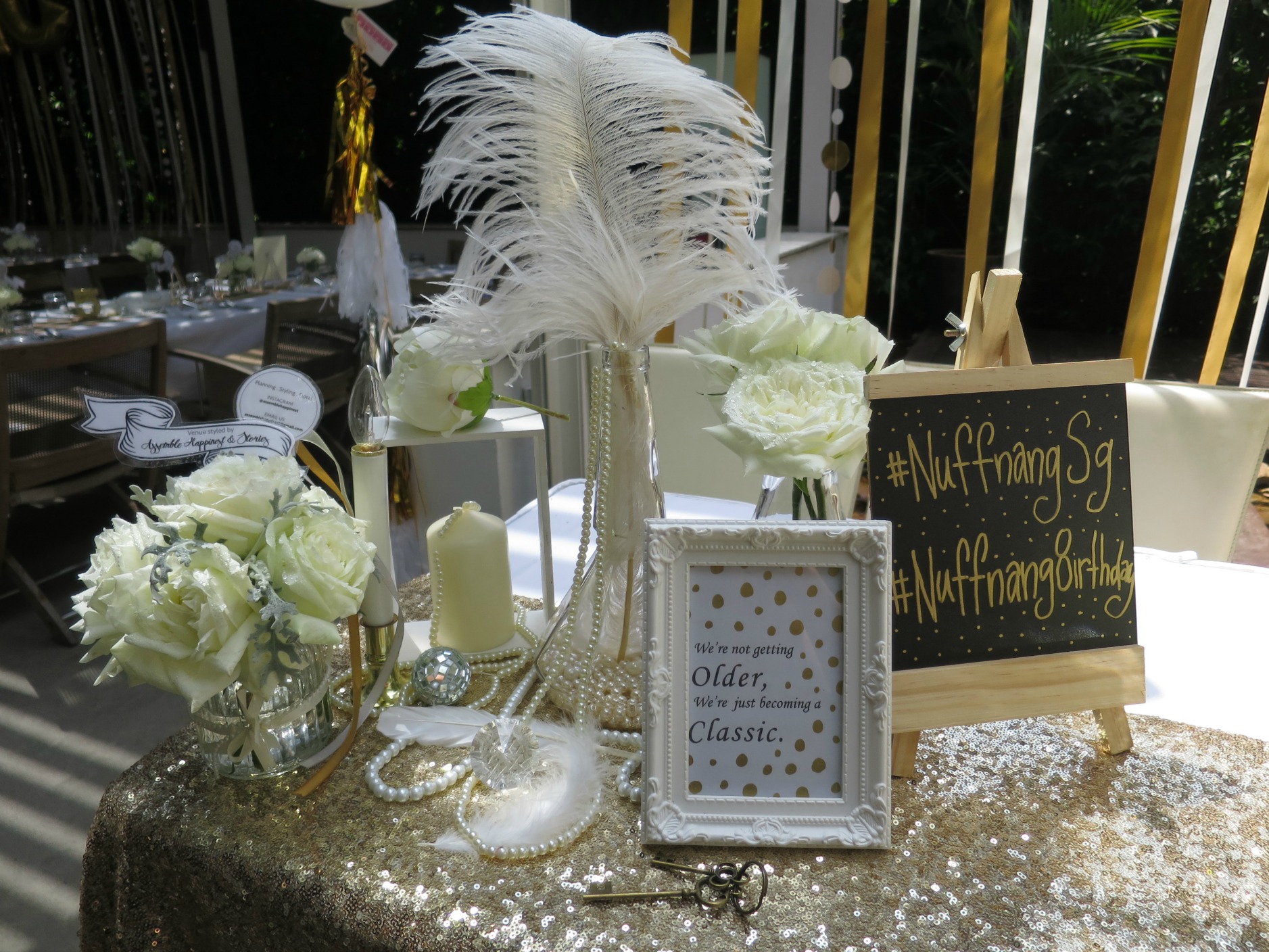 A timeless spread on the reception table. "We're not getting older, we're just becoming a classic."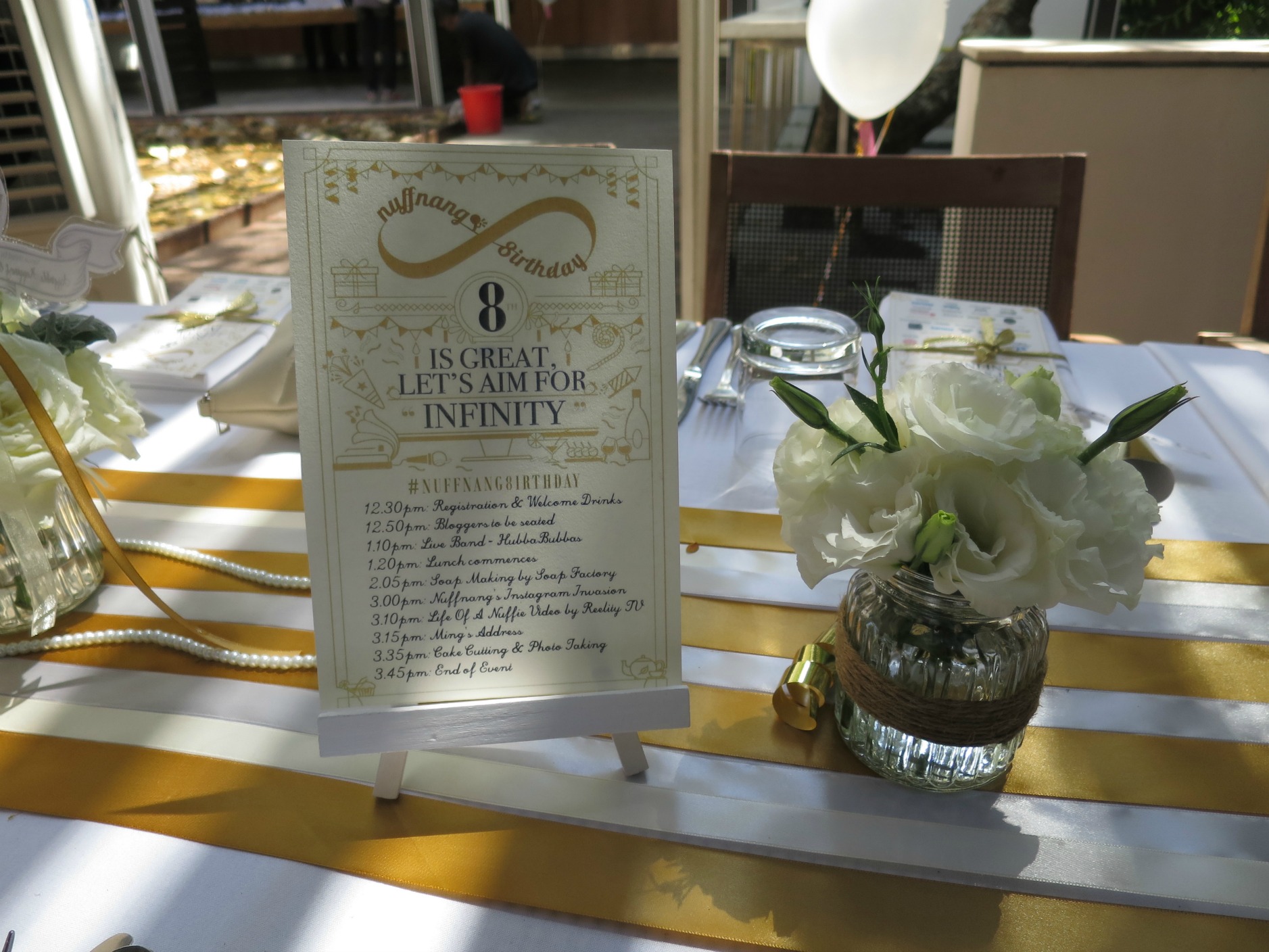 Agenda for the day.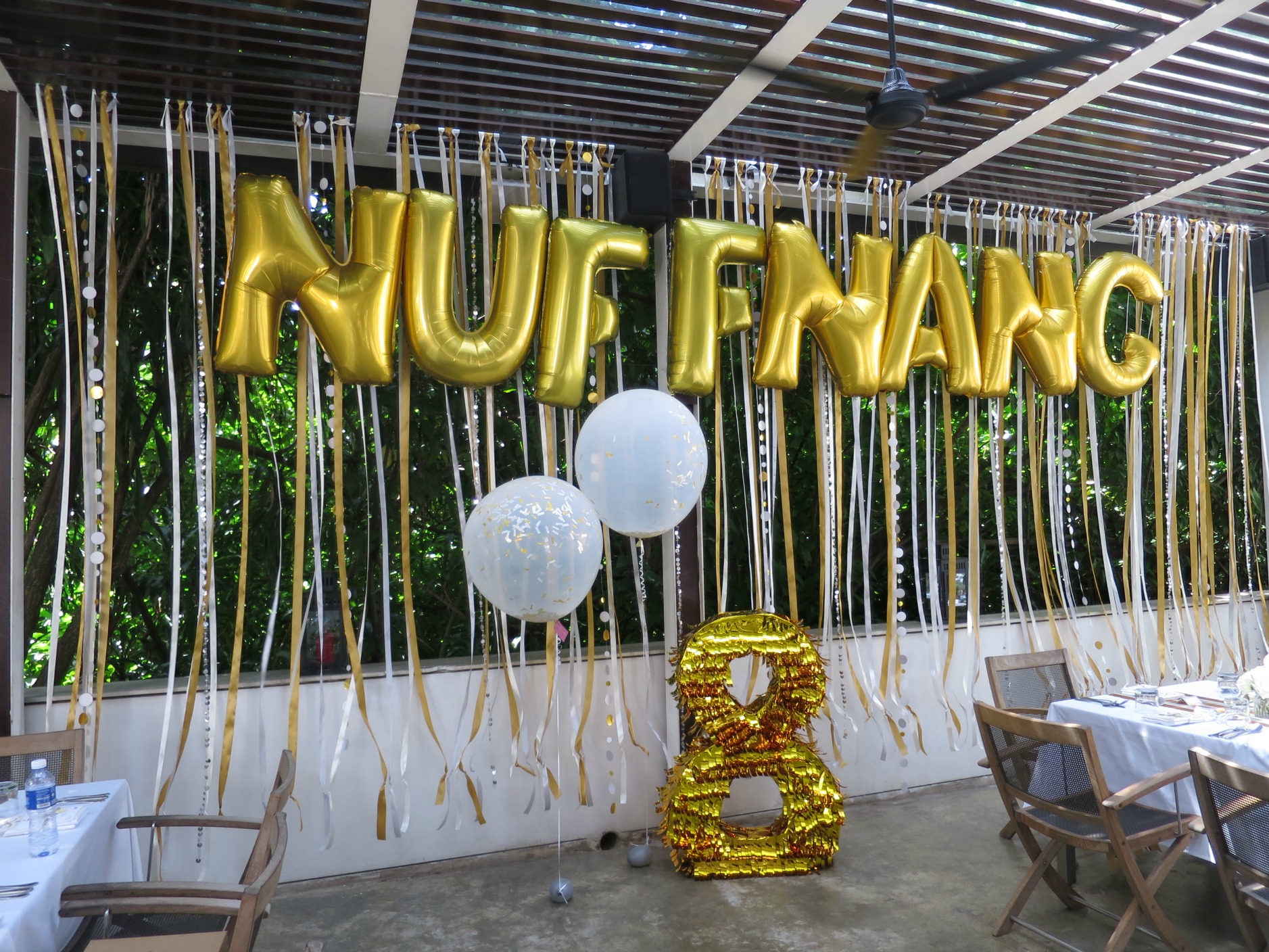 'NUFFNANG' Giant Gold Letter Foil Balloons and two Giant Transparent Latex Balloons inflated with helium gas were placed at the stage area. We love how beautiful this backdrop turned out to be!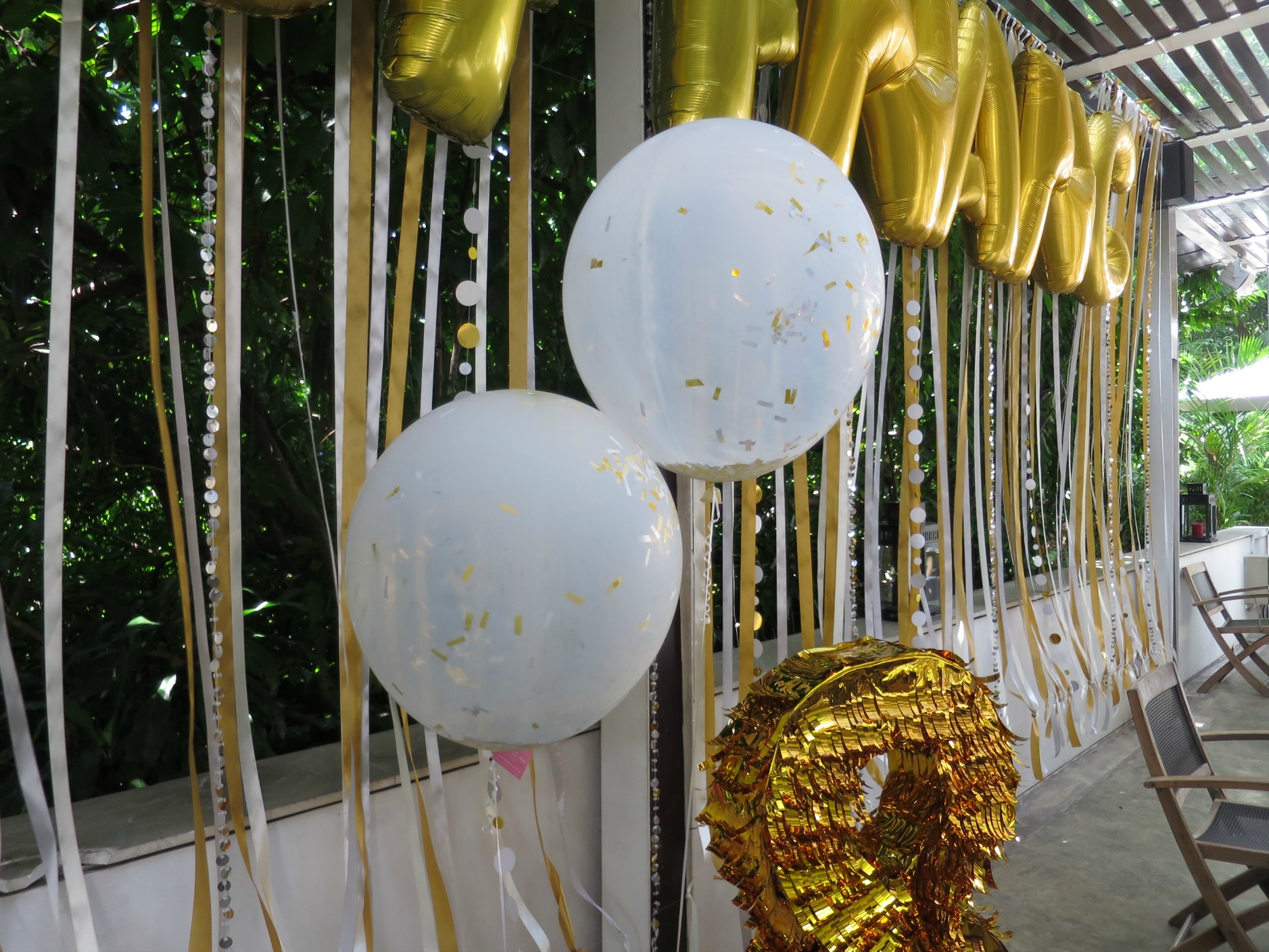 A close up picture of the Giant Round Balloons. The balloons were filled with white and gold confetti as requested by Assemble Happinest to add a festive touch to the party.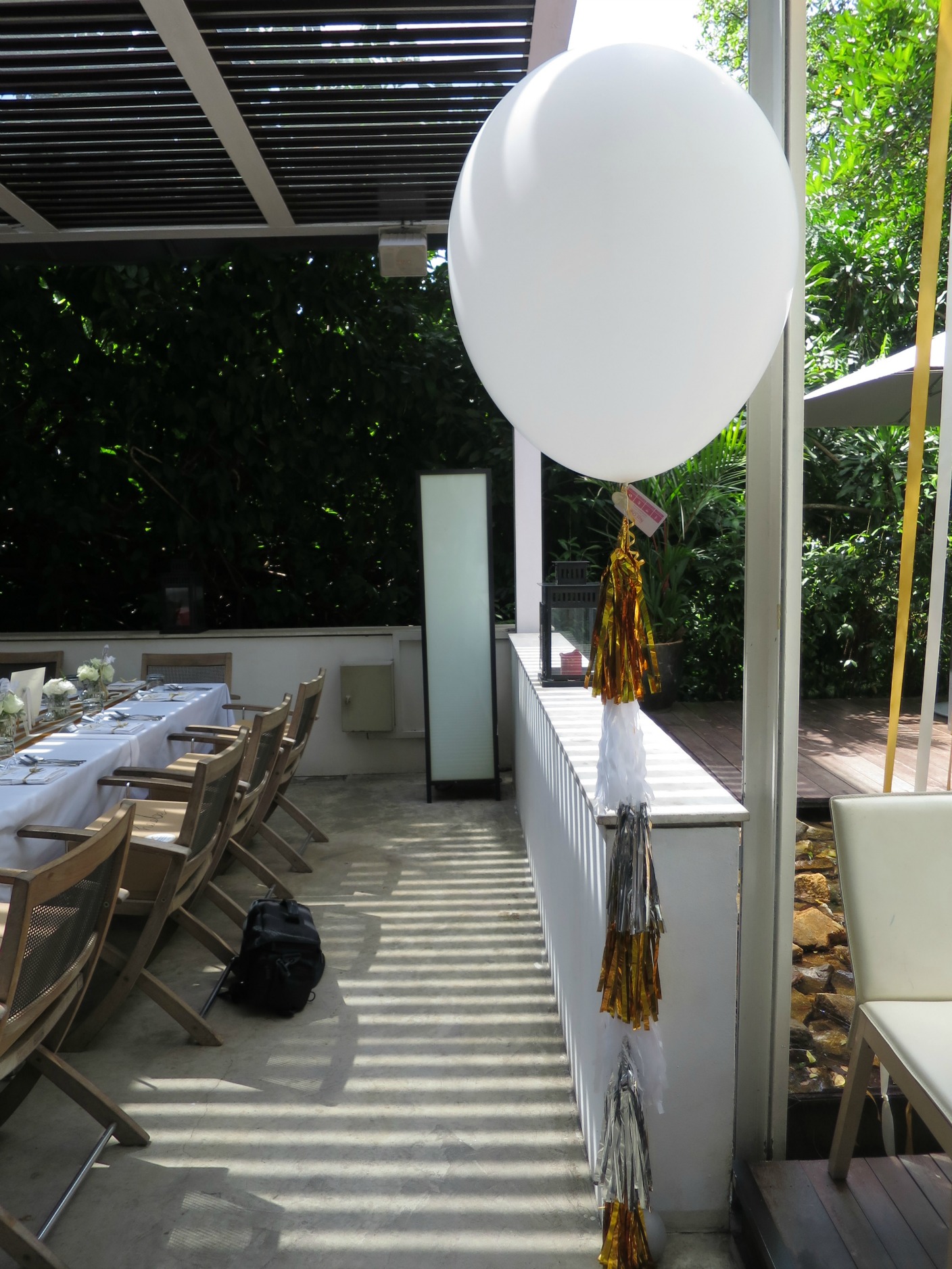 Gold, white and silver Tassel Garlands were used to dress up the Giant Latex Balloon.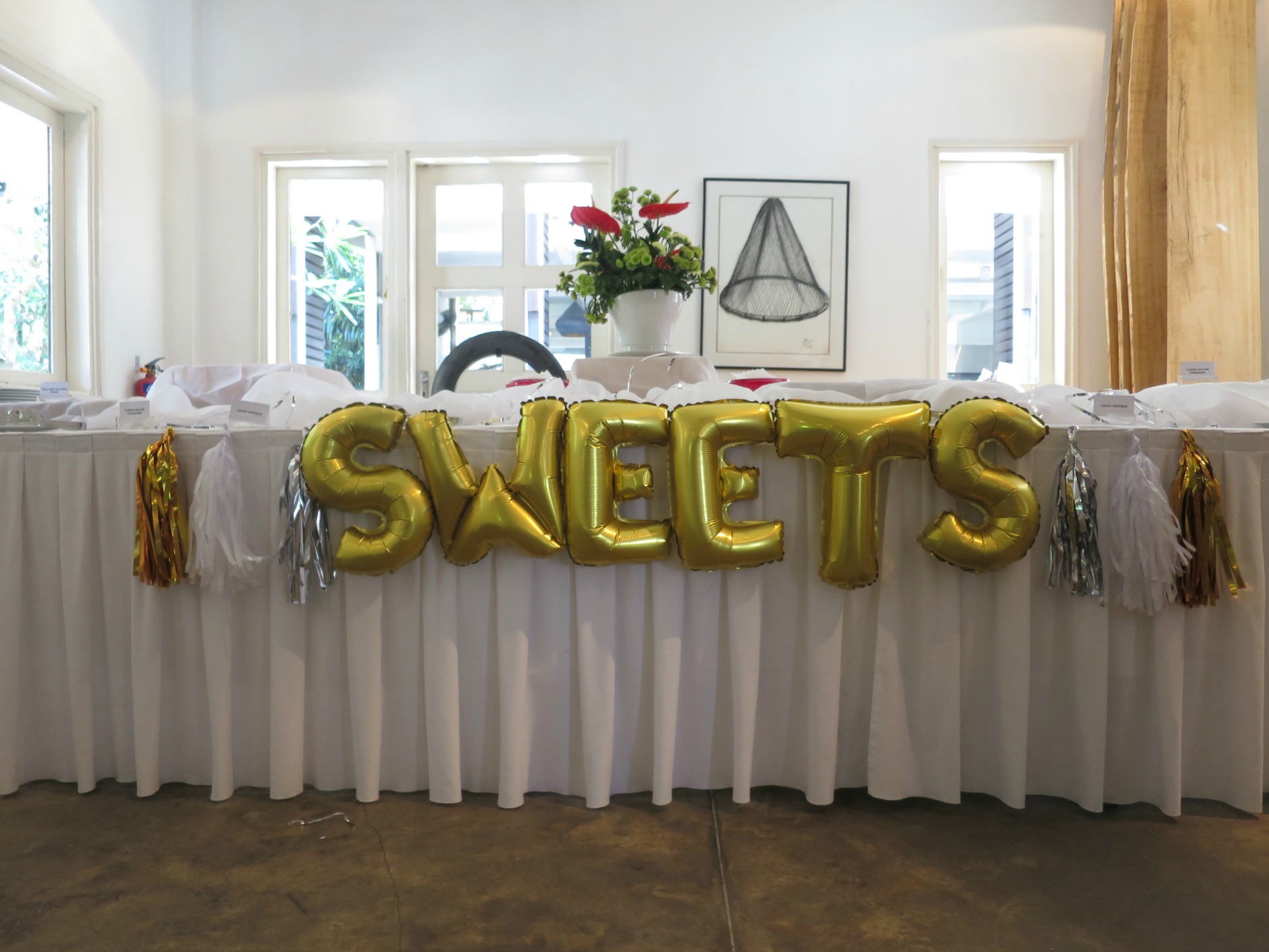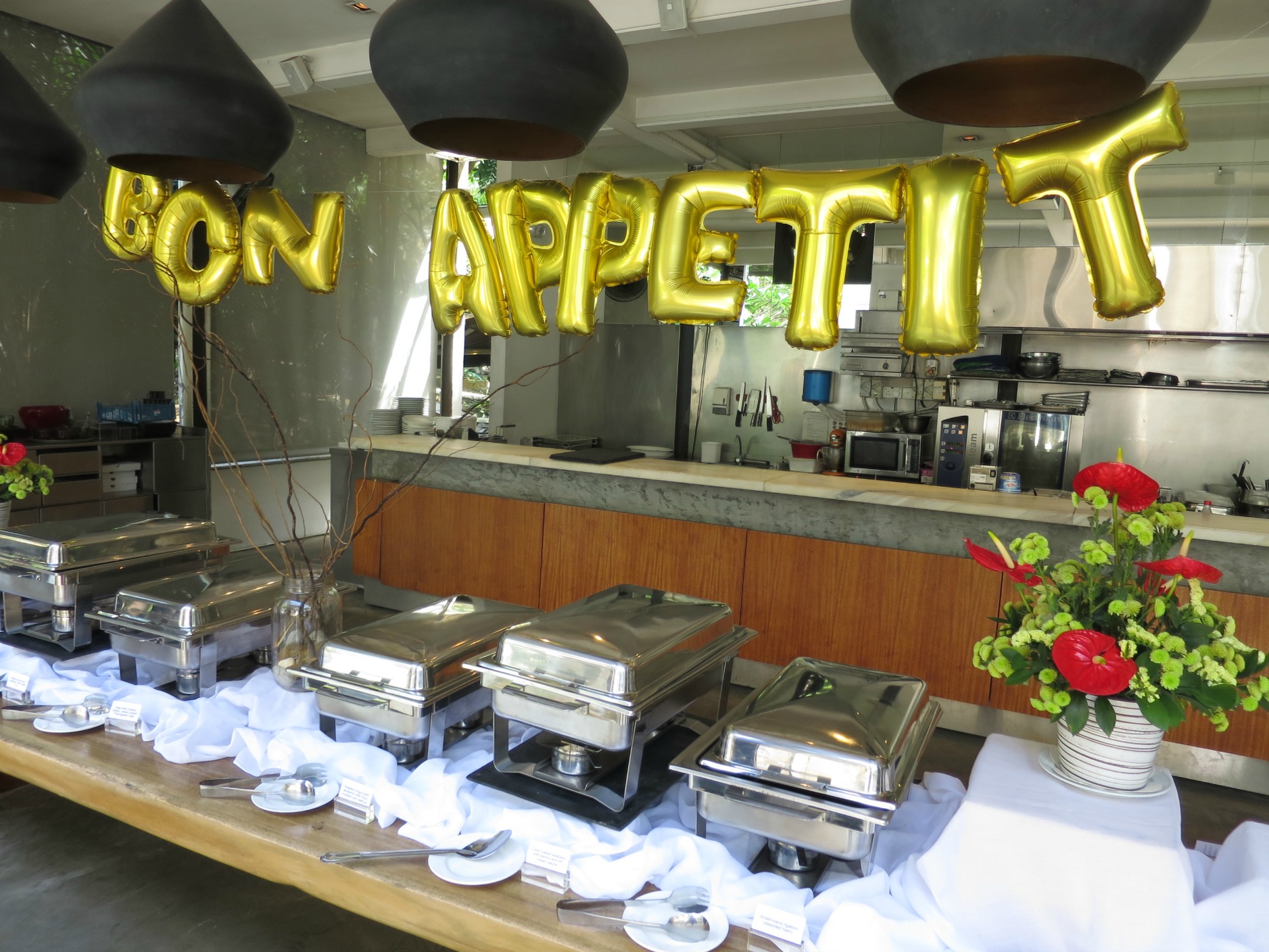 Tassel Garlands and 'SWEETS' small alphabet balloons were used to decorate the dessert table while 'BON APPETIT' small alphabet balloons were used to decorate the buffet serving area.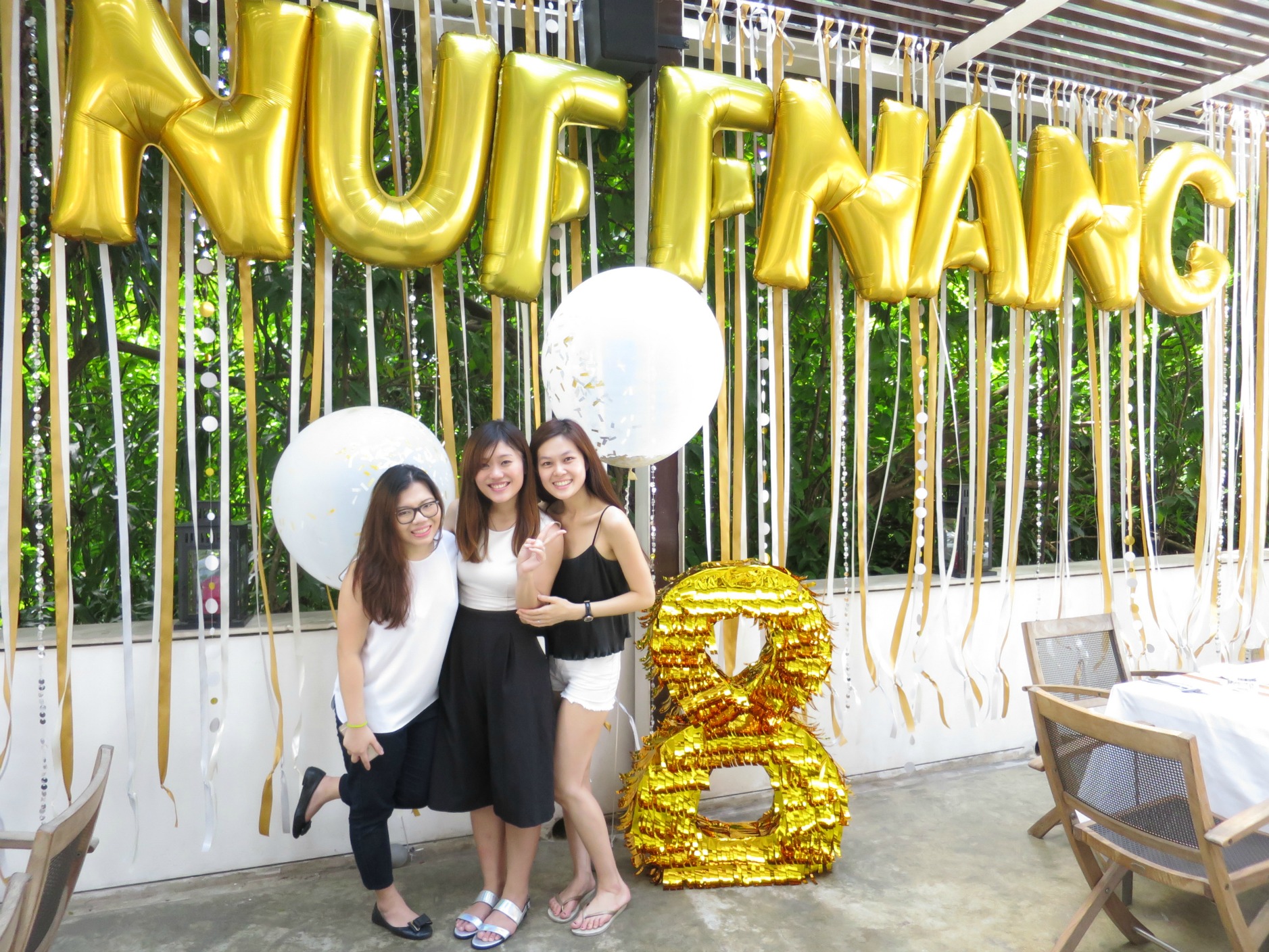 Lastly, a picture of the team behind all the amazing works. From left to right, Joycelyn (From Assemble Happinest), Nizz (From Give Fun) and Lydia (From Assemble Happinest). It has been our pleasure to work with Assemble Happinest and we are looking forward for more exciting projects in future. We would also like to thank Nuffnang again for having us to be part of their 8th birthday bash!
For more pictures of the event, please search for hashtag #NuffnangSg and #Nuffnang8irthday on Instagram!