Ready for an all new interactive and colorful activity for the kids? Make your world more colorful with Give Fun's all new Coloring Balloons that can self-inflate with normal air!
Young children love and often mesmerized by colors and balloons, Give Fun's Coloring Balloons Series is a brand new way to engage them with their favorite themes, in a much creative approach. (shh... it's a brilliant way to keep the little ones entertained at your next party or a dine out!)
Why you should get these balloons?
1. Great for Party Favours/Gifts: the size is just nice for the kids to bring home after the party. You may come out with a Coloring Balloon Station at your kids party for the little guests to engage them in coloring activities and balloon fun!
2. Auto Air-Inflated: kiss goodbye to the hassle of blowing up the balloons manually! Wow your kids by seeing how the balloons inflate on its own. Balloon can stay inflated for a few weeks.
3. Highly Durable & Tamper-Free: balloon is tested to be able to withstand weight of a car, just how durable it is! The best part is the balloon will not burst!
4. Safe and Non-Toxic: contents inside the balloons are made of non-toxic substances, not harmful to the children in case where the balloons are torn intentionally.
Every Coloring Balloon features two different designs (on the front & back), select your favorite prints or just get them all!
Suitable for both adult and kids, recommended for kids age 3 and above (pre-schoolers, kindergarten and etc).
Size (length of diameter): 19cm (before inflation), 17cm (after inflation)
Product comes with a standard white balloon stick (to be used to snap it to the balloon), does not include color pencils/paints.
Four easy steps to use Give Fun's Coloring Balloons:
COLOR: Color the balloon with color pencils, crayons, water colors, markers, or any types of water-based paint.
ATTACH: Simply snap the balloon cup to attach the balloon stick to your balloon.
PRESS: Press and pop and substance in the balloon and gently shake it.
MAGIC: Wait and watch your coloring balloonto be inflated with air, automatically!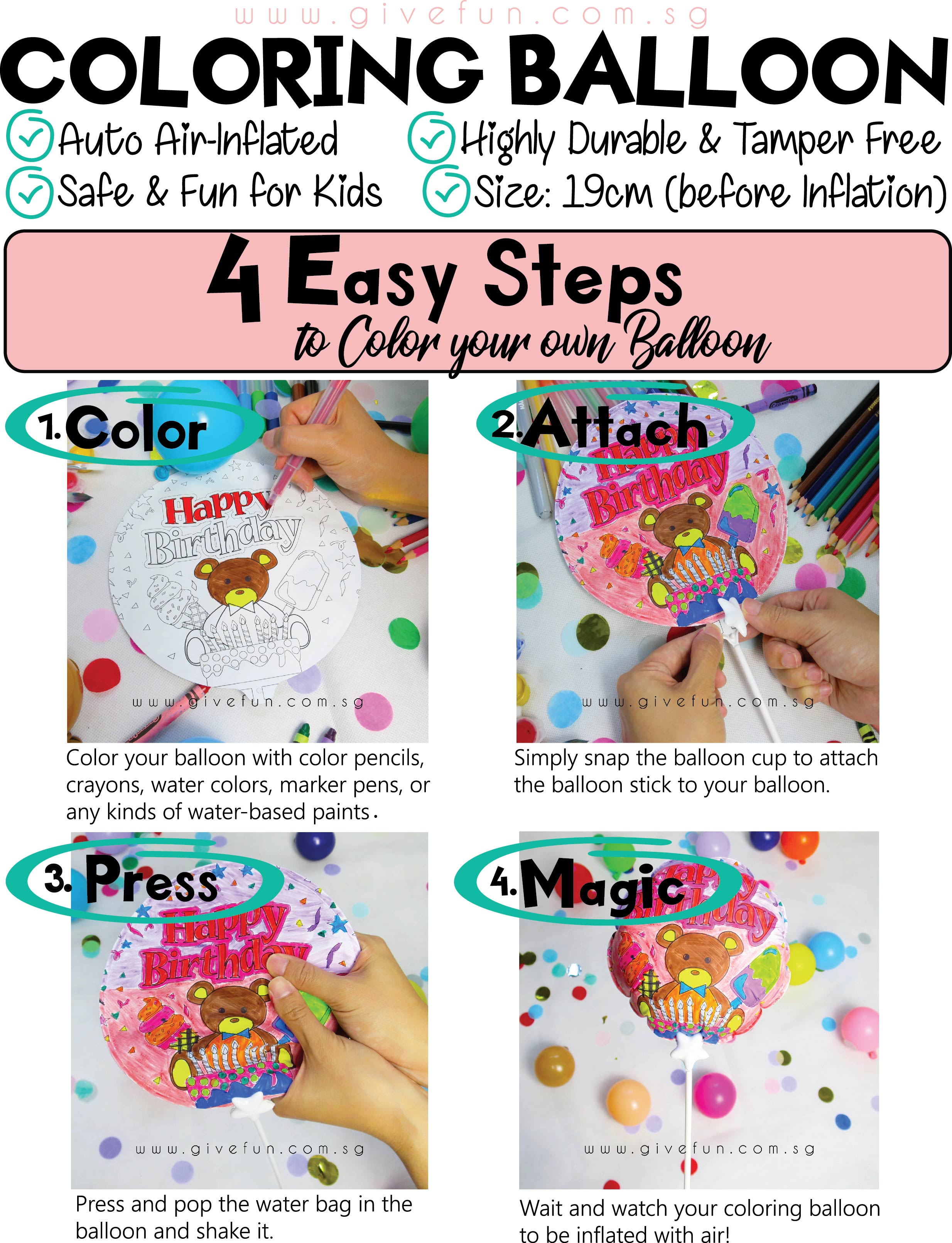 Warning: Adult supervision is required as uninflated balloons can be a choking hazard. Keep uninflated balloons out of reach from children and discard broken balloons. Do not inhale helium gas at all time, it can be a health hazard.
Disclaimer: Product photos are for illustrative purposes only. Actual colors may vary from the product photos, and may also vary from the PC/Mobile/Tablet's screen due to monitor color restrictions.